"Dylan Goes Electric! Music, Myth, and History" with Elijah Wald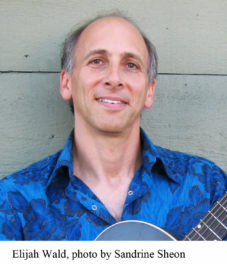 Note: Tickets are no longer required for admission into lectures.
The first use of an electric guitar by Bob Dylan at the Newport Folk Festival in 1965 is an iconic moment in 20 th century music. The confrontation with his booing audience signaled a new understanding of rock as a modern art form and of rockers as innovative rebels. In Dylan Goes Electric: Newport, Dylan, Seeger, and the Night that Split the Sixties, Elijah Wald explores the world that shaped Dylan and his music. Wald is a musician, historian, and writer whose many awards include a 2002 Grammy. His memoir with Dave Van Ronk, The Mayor of MacDougal Street, inspired the Coen Brothers' Inside Llewyn Davis.
CARY HALL • SATURDAY, OCTOBER 15TH, 2016 AT 8:00 PM

Wikipedia Page about Elijah Wald
Dylan Goes Electric- More about Elijah Wald's Latest Book