"Head Games: The Worldwide Sports Concussion Crisis" with
Chris Nowinski
January 25th, 2014
Saturday, January 25th, 2014-8:00 PM (Click here to view a recording of this session.)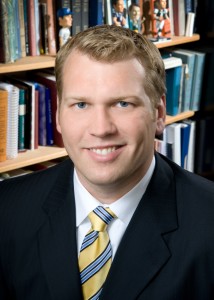 Chris Nowinski is a former Harvard football player and professional wrestler who experienced concussion and post-concussion syndrome himself.  He became aware of a worldwide crisis in sports head injuries, and that led him to his present research.   Nowinski will explore the latest findings on Chronic Traumatic Encephalopathy, a devastating disease that may be more widespread than originally thought.  He will also discuss the culture war over head injury and sports policy.  Chris is co-director of Boston University's Center for the Study of Traumatic Encephalopathy and president of the Sports Legacy Institute, a non-profit organization dedicated to solving the sports concussion crisis.
Biography
Chris Nowinski is the co-founder and president of the Sports Legacy Institute (SLI), a non-profit organization dedicated to solve the sports concussion crisis, and serves as a co-director of the Center for the Study of Traumatic Encephalopathy (CSTE) at Boston University School of Medicine.
After an All-Ivy football career at Harvard, Mr. Nowinski became one of the most hated characters in World Wrestling Entertainment. He debuted on WWE's flagship program Monday Night RAW in 2002, where he was named "Newcomer of the Year" by RAW Magazine and was the youngest male Hardcore Champion in WWE history before a concussion forced him to retire in 2004.
Diagnosed with post-concussion syndrome, Chris began a quest to better understand this condition, and after meeting Dr. Robert Cantu, Chris realized that a lack of awareness about brain trauma among athletes, coaches, and even medical professionals cost him his career, and threatened the health and well-being of athletes of all ages. This led him to write the critically acclaimed book Head Games: Football's Concussion Crisis, published in 2006, in an effort to educate parents, coaches, medical professionals and children about this serious public health issue.
Through his continued advocacy and investigative work, Chris has raised this issue into the national consciousness and changed how sports are played. Chris and his team's research has been featured inmedia outlets like The New York Times, Sports Illustrated, USA Today, Time Magazine, 60 Minutes, ESPN, CNN, Fox, TSN, NPR, and more. His profile in May 2007 by HBO's Real Sports with Bryant Gumbel won the Emmy for Sports Journalism, a second episode aired in January of 2010, and a third in August of 2010.
Today Chris serves on the National Football League Players Association Mackey/White TBI Research Committee and on the board of directors of the Brain Injury Association of America. He was a finalist for Sports Illustrated Sportsman of the Year in 2010, named a 2011 Eisenhower Fellow, and is currently pursuing a Ph.D. in Behavioral Neuroscience at Boston University School of Medicine.
Chris' leadership in this field has made him a sought-after voice for awareness, and since 2006 he has shared his story and work nearly 200 times for corporations, medical conferences, schools, and sports organizations around the world.
Related Links