"The Bow and the Brush: An Exploration of Music and Painting" with Yehuda Hanani November 8, 2014
Saturday, November 8th, 2014 at 8:00 (Click here to view a recording of this session.)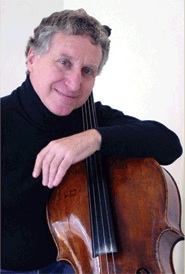 NOTE: Lectures this year will take place at Clarke Middle School at 17 Stedman Road in Lexington. GPS may not take you to the right location. Instead, follow GPS to Brookside Avenue in Lexington (not to 17 Stedman Road). Proceed to the end of Brookside, turn right, and you will be at the school.

Yehuda Hanani, a virtuoso cellist, will consider the relationship between painting and music, two non-verbal arts with parallel histories that mirror one another in many ways.   Mr. Hanani will play for us as well as lecture.  He has performed with countless orchestras and groups around the world and teaches master classes internationally, as well as at at the University of Cincinnati Conservatory of Music, where he is Professor of Cello. He is based in Great Barrington, MA, performing at Tanglewood when he's not traveling; and he directs programming for The Mahaiwe Center's Close Encounters with Music.
Biography
Yehuda Hanani has presented over 200 original lectures on music and culture, including appearances at museums such as the Metropolitan Museum of Art, Detroit Museum of Art, Phoenix Art Museum, Norman Rockwell Museum, and the Joslyn Art Museum. Hanani also has a weekly program on NPR affiliate station WAMC Northeast Radio, "Classical Music According to Yehuda," which is aimed at outreach for classical music. It has been widely successful with thousands of fans for the direct broadcast and podcast. To extend his educational efforts, Hanani founded in 2010 the Catskill High Peaks Festival in Hunter, NY.
Hanani's charismatic playing and profound interpretations bring him acclaim and reengagements throughout Europe, North and South America, the Orient and his native Israel. An extraordinary recitalist, he is equally renowned for performances with orchestras such as the Chicago Symphony, Philadelphia Orchestra, Baltimore Symphony, St. Paul Chamber Orchestra, Berlin Radio Orchestra, Israel Philharmonic, BBC Welsh Symphony, Buenos Aires Philharmonic, Hong Kong Symphony, Jerusalem Symphony, Lithuanian Chamber Orchestra, and Seoul Symphony among others. He has collaborated with prominent fellow musicians, including Leon Fleisher, Aaron Copland, Christoph Eschenbach, Itzhak Perlman and members of the Emerson, Vermeer, Muir, Julliard, Lark, Colorado, and Cleveland Quartets and the Cuarteto Latinoamericano. This distinguished artist made the first recording ever of the monumental Alkan Cello Sonata, receiving a Grand Prix du Disque nomination, and his other discs have won wide recognition.
Hanani is Professor of Cello at the University of Cincinnati College Conservatory of Music and presents master classes internationally in conjunction with concert tours. As Artistic Director of the Close Encounters With Music chamber music series in the Berkshires and in South Florida, he presents an innovative approach to programming that explores the common roots of all the arts. Soloist, chamber musician, master teacher and ambassador of the arts, Hanani inspires audiences the world over. His studies were with Leonard Rose at the Julliard School and with Pablo Casals.
Related Links
Yehuda Hanani's Wikipedia Page