"How Cooking Made Us Human" with Richard Wrangham
December 7, 2013
Saturday, December 7, 2013-8:00 PM (Click here to view a recording of this session.)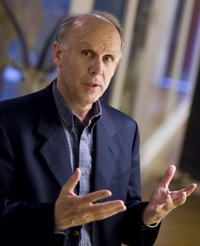 What makes us different from our primate cousins?  Humans have always been dependent upon fire for survival, but the enormous consequences of cooking for our development have not been much explored.  Professor Wrangham will discuss the revolutionary thesis of his most recent book, Catching Fire (2009):  that cooking was essential to human biological and social evolution.  Richard Wrangham is the Ruth Moore Professor of Biological Anthropology at Harvard University, where he has worked since 1989.  He studied under Jane Goodall, and his major interests arechimpanzee behavioral ecology, the evolution of violence, human dietary evolution, and the conservation of chimpanzees and other apes.
Biography
Richard W. Wrangham (born 1948) is a British Primatologist. He is the Ruth Moore Professor of Biological Anthropology at Harvard University and his research group is now part of the newly established Department of Human Evolutionary Biology.
He is co-director of the Kibale Chimpanzee Project,the long-term study of the Kanyawara chimpanzees in Kibale National Park, Uganda. His research culminates in the study of human evolution in which he draws conclusions based on the behavioural ecology of apes. As a graduate student, Wrangham studied under Robert Hinde and Jane Goodall.
Along with Eloy Rodriguez, Wrangham helped to introduce the concept of zoopharmacosnosy.  Wrangham is considered "one of the pioneers of the study of chimp self-medication".
Among the recent courses he teaches in the Human Evolutionary Biology (HEB) concentration at Harvard are HEB 1330 Primate Social Behaviour and HEB 1565 Theories of Sexual Coercion (co-taught with Professor Diane Rosenfeld from Harvard Law School). In March 2008, he was appointed House Master of Currier House of Harvard College.
Related Links
Evolving Bigger Brains Through Cooking
Prof. Wrangham's Research Web Site
The Kasiisi Project (Schools Program in Uganda)